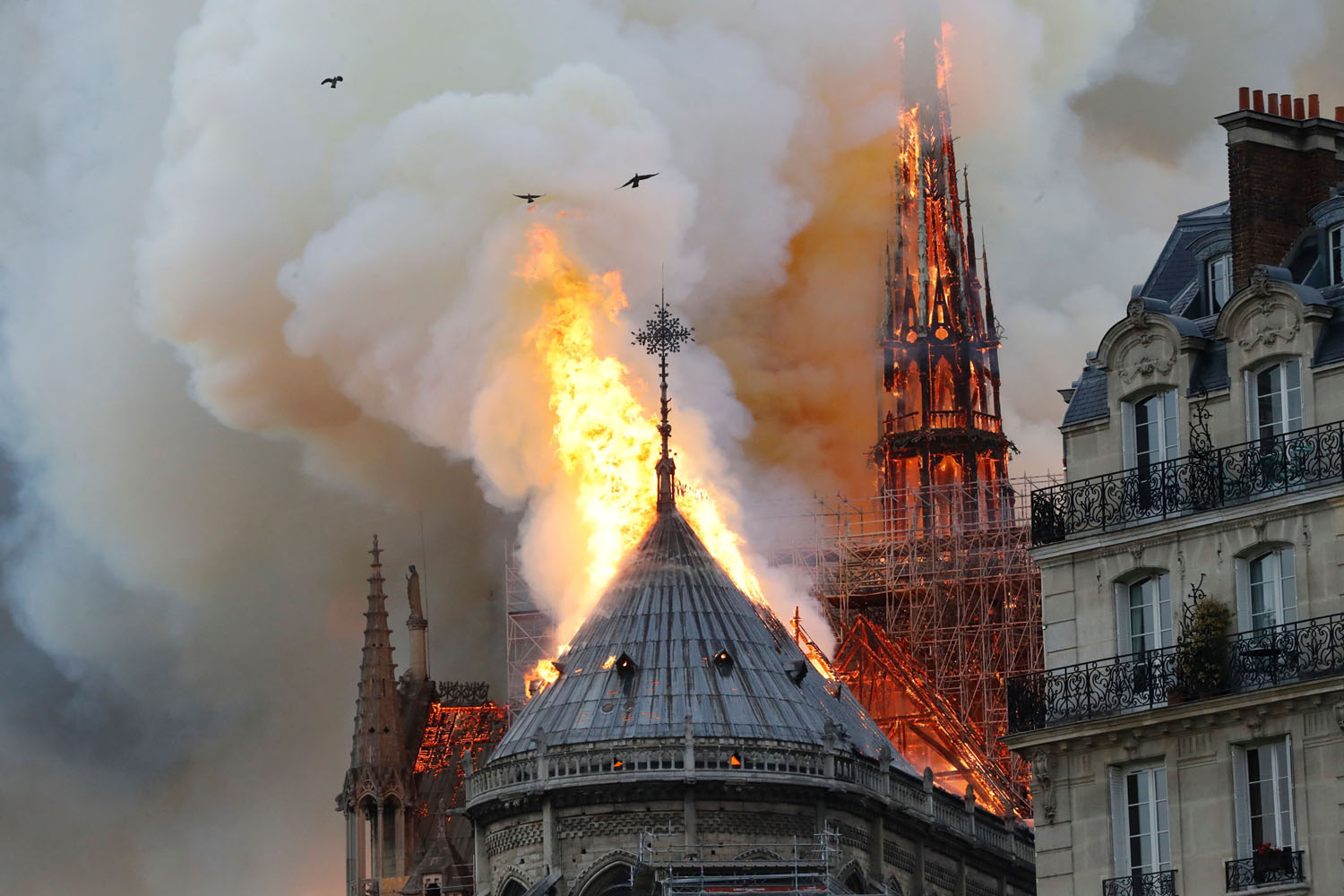 My heart is of course broken at the disaster inflicted yesterday upon Notre Dame de Paris. All that must be said about the cultural and religious meaning of this catastrophe has already been well said by many commentators of the Right, so I shall not here repeat them. Everyone knows that this was an attack of the Enemy upon the Body of Christ, and upon Christendom, such as she still is. The chorus of the Right has now, rightly, begun to ask why this obvious fact may not be mentioned. And everyone knows the answer to that question, too: Islam, modernism and Liberalism are all bound and determined to destroy Christianity, and Christendom.
One thing only, of the obvious, necessary things that must be said, have I not yet seen anywhere said: Saint Denis, Our Lady, and all the saints, pray for France, for the West, and for her Church.
There is a yet deeper question: why is it, exactly, that Liberalism, modernism, Islam, et alia, are so determined to destroy Christianity?
Why is it, for that matter, that Satanism can characterize itself, and enact its rituals, only by means of its opposition to Christianity, and especially to the Church?
Each of them would I suppose answer that they oppose Christianity because they believe it to be false, and their own religion to be true. But that answer begs another: if their own religions are true, and the others are all false, why do they so seldom level their ire or their fire at each other? To some extent they do, of course; e.g., the more consistent and rational among the feminists and the Mohammedans decry each other. Nevertheless, for all its competitors, Christianity is first among enemies.
Why?
The answer to this question, too, is I think obvious: all other cults hate Christianity above each other because deep down they intuit that Christianity alone, and unlike them, is simply true.
I am the Lord thy God, which have brought thee out of the land of Egypt, out of the house of bondage. Thou shalt have no other gods before me. Thou shalt not make unto thee any graven image, or any likeness of any thing that is in heaven above, or that is in the earth beneath, or that is in the water under the earth. Thou shalt not bow down thyself to them, nor serve them: for I the Lord thy God am a jealous God, visiting the iniquity of the fathers upon the children unto the third and fourth generation of them that hate me; and shewing mercy unto thousands of them that love me, and keep my commandments.

Exodus 20:1-6

Blessed are ye, when men shall revile you, and persecute you, and shall say all manner of evil against you falsely, for my sake. Rejoice, and be exceeding glad: for great is your reward in heaven: for so persecuted they the prophets which were before you. Ye are the salt of the earth: but if the salt have lost his savour, wherewith shall it be salted? it is thenceforth good for nothing, but to be cast out, and to be trodden under foot of men.

Matthew 5:11-13